Increasing Revenue With Relationships:
How Introhive and Mutual Value Can Help Drive Your Firm's Success
Ever wanted to decode the secret recipe of the high performer? Well here is your chance to peek behind the curtain!
In almost every sales operation we've ever seen, there are high, medium and low performers. Typically, there's a clear top 20% - and a similar proportion at the bottom. What is the key to transforming the effectiveness of your sales performance of those who lead your accounts?
The answer: move the middle 60% closer to the best performers.
This will have more impact on your overall sales than any other single thing you can do.
The key is to systematise this so that these behaviours are applied consistently across the firm. The impact of that can be transformative – we'll show how you can double sales by focusing on relationships over deal making.
Fill out the form to watch on-demand above.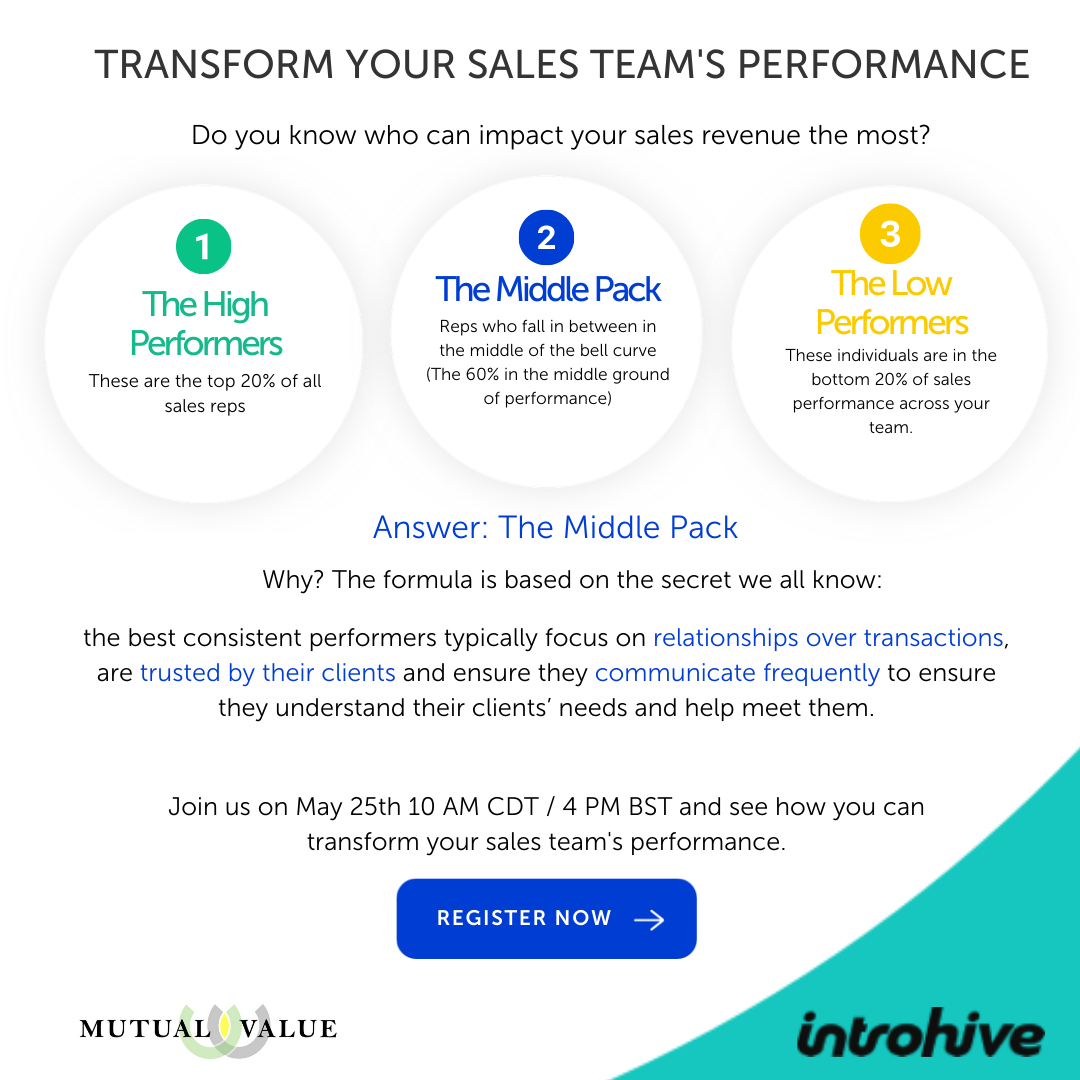 About Introhive
Introhive is an AI powered SaaS platform designed to help organizations realize the full value of their relationships and underutilized data across their business to increase revenues, employee productivity and to improve customer experience management.
About Mutual Value
Mutual Value Ltd helps B2B organisations be much more ambitious about what they can achieve in their commercial relationships. Through its services, Mutual Value helps clients build collaborative behaviours with key customers, critical partners and, where appropriate, their entire ecosystem – all in pursuit of far greater value creation for everyone involved.
Its consultancy, training and coaching programmes focus on the mindset and skillset of those who need to act on this intention, and we provide a toolset to support the change.
The founders of Mutual Value bring 60 years' experience of building compelling visions and engaging people in organisations to deliver the new and better behaviours that turn warm words into real results. Mutual Value is based in UK but works globally with partners and associates.
Learn more at www.mutual-value.com.